Night mode (not to be confused with Canary's automatic night vision) is a schedule you can set to have Canary monitor for activity while you sleep with or without sending you motion-activated notifications. Alternatively, you can schedule your Canary to be set to private.
This mode is also configurable on a per device basis with the same options as Home mode, but has the added ability to set a scheduled start and end time. This schedule is set for every day of the week and is currently not further configurable.
Two important thing to understand about night mode.  
Your Canary will only switch to night mode if someone is home.
Notifications will be silenced if your phone is set to 'Do not disturb.'
How can I customize night mode?
You can configure Canary to record video or to be set to private when it enters night mode.
You can also choose whether or not to enable motion notifications if you decide to have Canary record video while in night mode.
Step 1: Go to your Mode Settings
To go to your Mode Settings:
Tap the mode icon on the Home Screen 
Tap Edit.
Step 2: Tap night mode to customize your preferences. 
If you have more than one Canary device, you can customize mode settings to apply to an entire location, or customize each individual Canary separately.
Tap Set All Devices to customize the entire location
Tap Set Each Device to customize each individual Canary
Tap Schedule night mode to choose what hours you would like night mode to be enabled.
Important: The hours you choose should be based off the timezone of the defined location address within the Canary app.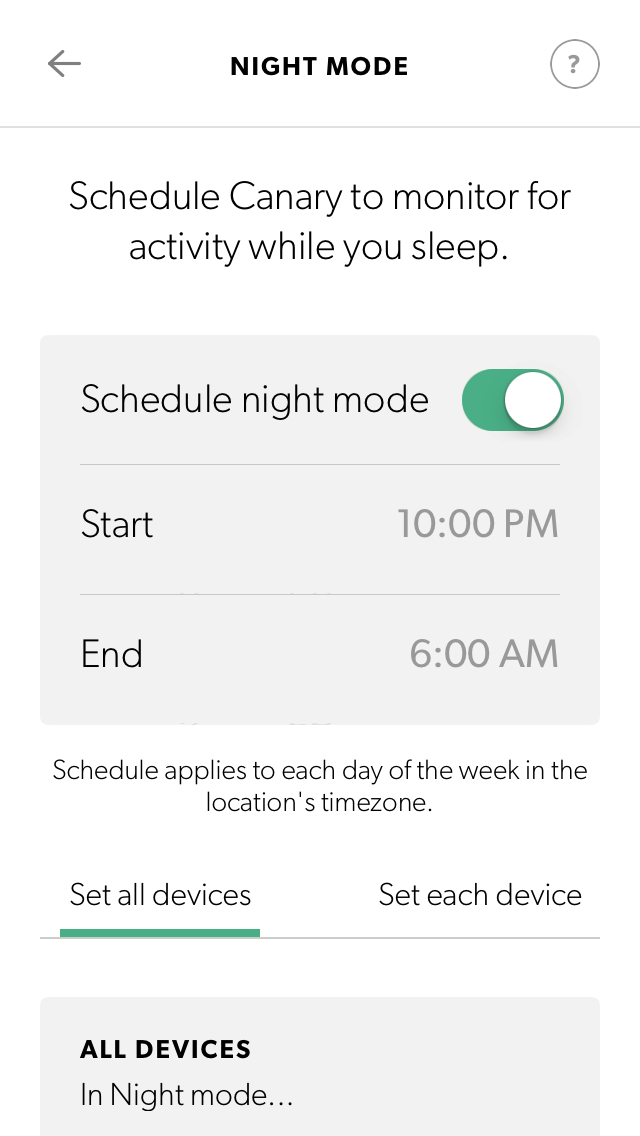 Simply tap the back button once you have it set the way you would like, and the settings will automatically save.