The Home Screen is typically the first screen you'll see when you open the Canary app. From here, you can navigate to any part of the Canary app in a few taps or swipes of your finger.
Swipe up to view your Timeline
Swipe down to view the Menu, Settings, or switch to another location
Swipe left or right to switch between multiple devices at a single location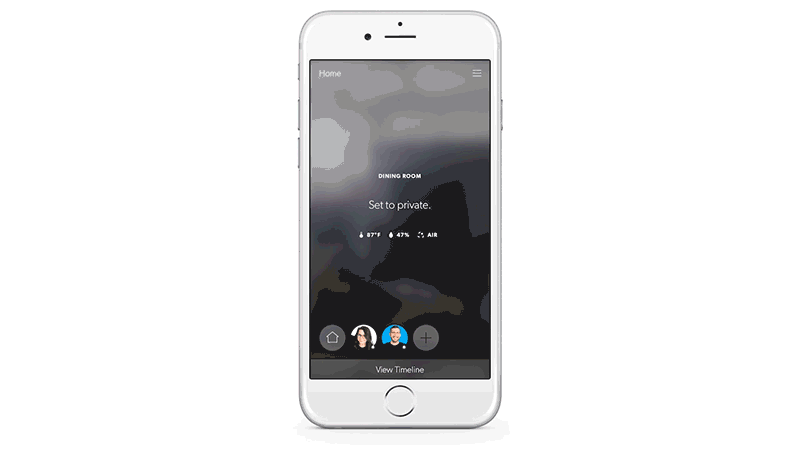 Watch Live
View live streaming audio and video in regular and night vision modes.
Modes
Managing Multiple Devices for a Location
Swipe from right to left anywhere on the Home Screen to switch between managing devices at a location.
Timeline
Swipe up anywhere on the Home Screen to see a timeline of activity from a particular location.
HomeHealth
View current HomeHealth environmental conditions.
Note: HomeHealth is not available on Canary Flex.
Members
See which members are home and tap their icons to make a phone call, send an SMS, or compose an email.
Settings
Swipe down on the Home Screen to see settings and resources for managing your device and account. You can also switch between managing devices at other locations.
Why does the background change?
The Canary randomly selects a frame from the most recently recorded motion, and automatically assigns a screenshot as the background.
Why does it say "Set to private." on my Home Screen?
When your device is set to private, the camera and microphone are completely off. To Watch Live, Canary needs to be in a mode that's setup to record video.
To enable Watch Live, you may need to:
Manually switch to away mode.
Manually disable the private setting.
Customize home or night mode to record video.