On the Home Screen, tap Watch Live to view a livestream of your home.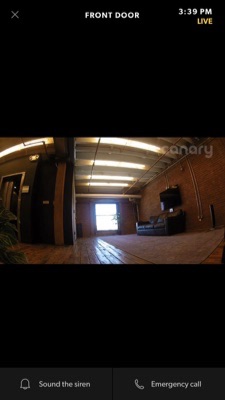 Switch Between Devices
Swipe from right to left on the live video to switch between viewing multiple Canary devices at a single location.
Emergency Options
Tap Emergency Options to sound the siren or make an emergency call.
Note: Siren is not available on Canary Flex.
Viewing Fullscreen
To view fullscreen, rotate your mobile device into landscape mode, or pinch to zoom while in portrait mode.
Note: Make sure orientation lock is disabled on your mobile device.