Important: The steps in this article have been updated to reflect app version 6.7.1, please update your app today for the best Canary experience.
We're excited that you're now ready to set up your new Professional Monitoring service. Our certified Professional Monitoring experts will allow you to feel confident knowing that your home is safe 24/7 when you're away. For further information regarding this service, please visit What is Professional Monitoring and why is it needed?

Professional Monitoring is accessible through the service settings page in the Canary app. Please ensure that your app is updated to the latest version. Please also make sure that you have "Auto-Mode Switching" enabled on the app, and that your Canary is set to record and send alerts in "Away" mode. You can find out how to set this up here.

Follow the steps below to set up Professional Monitoring:

1. Open the Canary app
2. Tap the gear icon at the top right corner of the Home Screen
3. Tap My services
4. Scroll to the Professional Monitoring tab
5. Select Set Up

Note: Push notifications must be enabled to proceed with the set up.
6. Verify your location address and enter additional information (apartment or floor number must be entered for emergency responders).

7. Edit address if required or tap Looks Good
8. Tap verify or update contact number accordingly
9. Enter the 6 digit verification code sent via SMS
10. Select a secondary user or tap Skip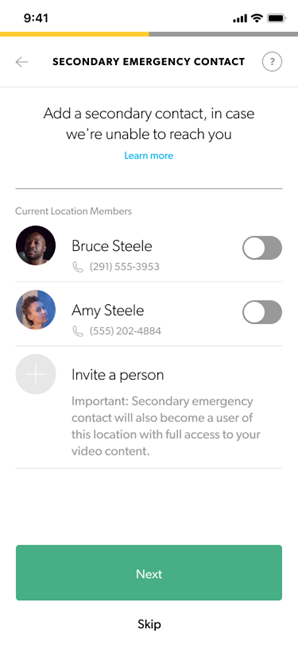 Note: The secondary user should be able to reach the location within 60 minutes, can provide information on where to find a key, and advise where the Canary devices are placed if requested by emergency responders. The secondary user will have full access to your video timeline.

11. Confirm emergency contact information
12. Add the Canary Emergency Service number to your contact list
13. Read and accept the Terms of Service to continue
14. View the tour of the Professional Monitoring features or select Skip

Your Professional Monitoring service is now set up and ready to go. If you have any questions or need assistance, please reach out to our Customer Support Team, who are available from 8 am to 5 pm, 7 days a week (EST).

Below are some related articles which may be of interest to you:

How does Professional Monitoring work?

Professional Monitoring