If you are using your Canary Flex outdoors you may receive unwanted recordings at night from objects such as rain, snow or insects. This is directly caused by the infrared lights from the device, which is how the Canary sees in dark environments.
When wired, your Canary Flex uses "computer vision" to determine if motion is happening. It's basically just looking at changes in the pixels on the screen. Any pixels changing is registered as motion. Our computer vision algorithms then try to filter out repetitive motion from things like ceiling fans, or background motion like lights and shadows. However, inevitably some motion is going to get passed those filters.
With night vision in particular, the infrared light bounces off precipitation particles falling very close to the camera or insects and it can be difficult for the Canary to distinguish this from important motion. Additionally insects are attracted to IR light just as much as to visible light from the device's LED ring.
Here are a few suggestions that may help reduce notifications from rain, snow and insects.
Use Canary Flex wire-free
When used wired, your Canary Flex will detect motion using its passive infrared (PIR) sensor. This sensor will blast the area with rays of passive infrared, which will detect heat signatures. When something with a different heat signature than the surrounding environment passes through those rays, it "trips" the sensor and your Canary Flex begins to record. This is going to be less likely to pick up something like precipitation. When the device is on battery, if there is no motion activity the Canary Flex LED ring and single IR LED also are turned off to conserve battery which will help attract fewer insects.
Note: Currently there is no way to turn off Flex's LED light ring when plugged in.
Adjust recording range when wire-free
We suggest adjusting the recording range for your Canary Flex on battery to see if you can get better motion detection at the distance that your device is mounted. This would allow you to avoid the constant recording from precipitation without compromising your motion detection for more important things.
Note: If you are on our Basic Service (free access) you can still change the recording range, but this will only impact what you are notified for, video recording is only available when on Premium Service.
Mode and Motion Notification
You can configure your device for each mode (Home, Away, and Night) to send notifications for all motion, people only, or nothing. Changing your notifications to "People only"* in Away mode for example, will ensure you receive notifications only when a person walks into the field of view and your device is recording video.
Additionally, you also have flexibility with the types of events you want your Canary Flex to record. For example, you can set your device to record all motion, to record only people, or to not record video. Set your Canary Flex to record "People only"* to ensure you only receive meaningful video on your timeline.
Please note that Person detection is exclusively available to customers with Premium Service, to find out more, click here.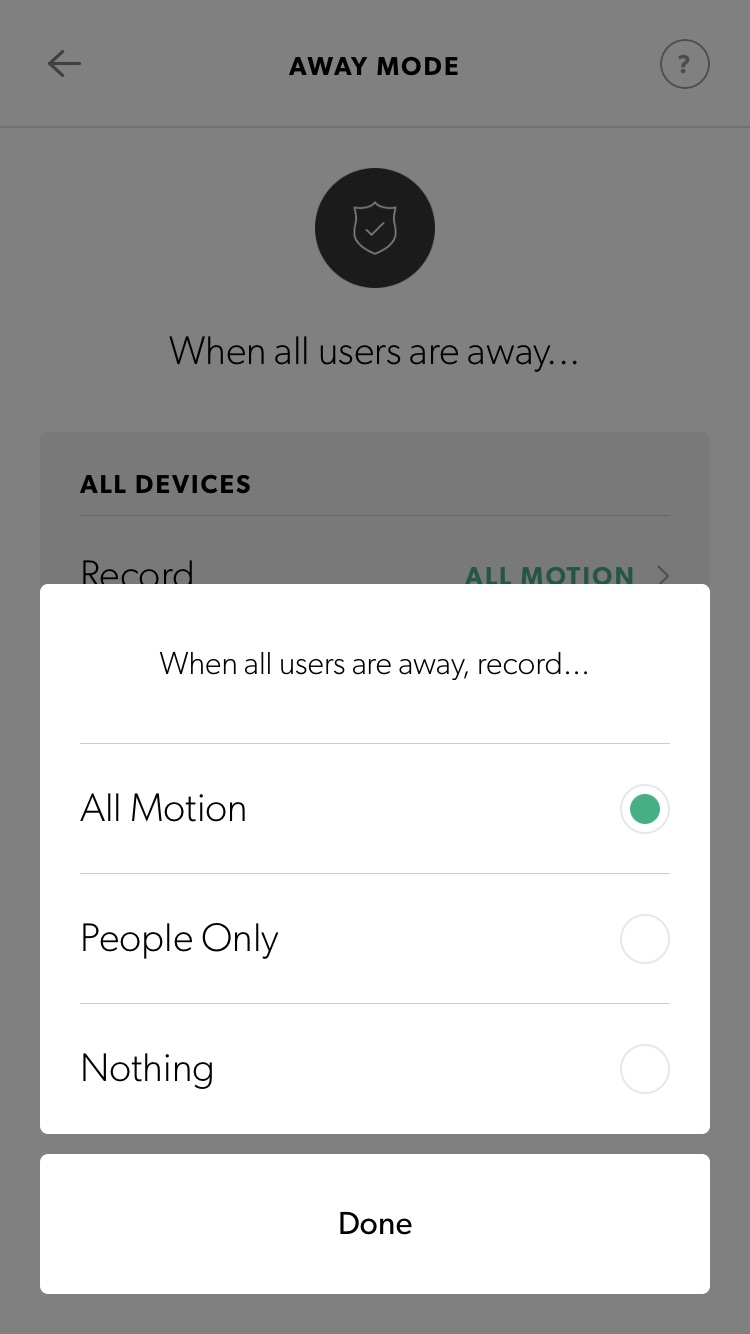 Add a Mask
When on our Premium Service you are also able to set up a masks to tell your Canary Flex device to ignore areas that cause unwanted video or alerts.