In certain instances you may run into an issue where your device may fail to enter or exit night vision.  In most of these cases, you can troubleshoot these issues right in your own home.
Night vision is no longer activating
If your night vision is no longer activating we recommend resetting your Canary.
Canary Pro
Disconnect the Micro USB cable from the back of Canary.
Then reconnect it to restart your device.
Canary Flex 
Unplug the device.
Hold the power button down for 12 seconds until the light in the front turns off (if it was on).
Continue to hold until Canary Flex reboots (you'll see a white spinning light).
Release the power button. 
Re-calibrate night vision
Cover the Canary with a thick blanket or towel so that it's completely blocked from light for 2 minutes. By covering the device with a towel you guarantee the ambient light sensor (ALS) is fully covered.  The ALS is the small lens located above the mic hole on your Canary. After 2 minutes uncover it and immediately shine a flashlight directly into the camera lens for 30 seconds. After this please test to see if night vision is activating properly when the room is dark and turning off when the room is bright. 
For Canary Flex, if you are testing night vision please keep the device plugged in for best results. When the device is on battery, it will go to a low power state. In this low power state most sensors are turned along with night vision until motion is detected via the PIR sensor.  
Infrared cut filter 
If your device is stuck in night vision and there is plenty of light in the location, you can try resetting the IR cut filter in your Canary device. If the IR cut filter is not in place, Watch live stream or created videos may look like there is pink or purple filter over the video when in day mode.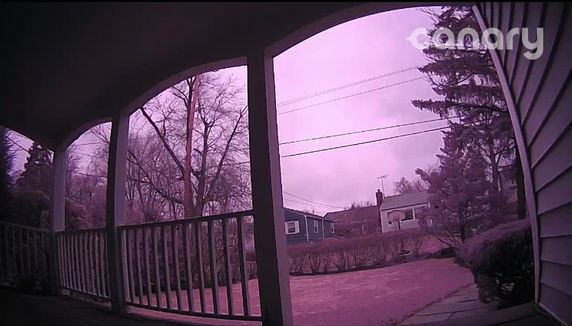 We recommend following the same steps for 'night vision is no longer activating' as well for this issue.
Reset Canary
Re-calibrate night vision
Make sure you are using the Canary provided USB AC power adapter.
Alternatively, you can try to use a secondary USB power adaptor from your iPhone or Android.
Try gently shaking or tapping either side of the Canary to see if the IR-cut filter dislodges.
Note: If either of these issues persist, submit a request with our support team. Please include screenshots of your devices live view during day and night with your request.